Chrysalis ( EZ Vidya)
At Brahm Dutt Blue Bells, we believe in starting early. In order to make our students future ready, Computer education is introduced right from Class Nursery. Students are introduced to technology through a hands-on curriculum developed by Chrysalis.
Chrysalis (EZ Vidya) is a Chennai based educational organization that is committed to bringing a change in the current education system with a vision of awakening Human potential in every child. It is a well graded curriculum covering areas like creative thinking, societal thinking, scope & sequence and multiple intelligence. Along with tech skills, learners are also guided for the unique values of compassion, courage, excellence, joyfulness and genuineness.
Mind Edutainment THOTS Lab
The school, under the guidance of Dr Alka Saxena , Deputy Director – Health and Wellness, has initiated the THOTS (The Higher Order Thinking Skills) programme to provide students with a structured approach to the development of thinking skills and processes. This program has been designed by Mind Edutainment Pvt. Ltd.
ROBOTICS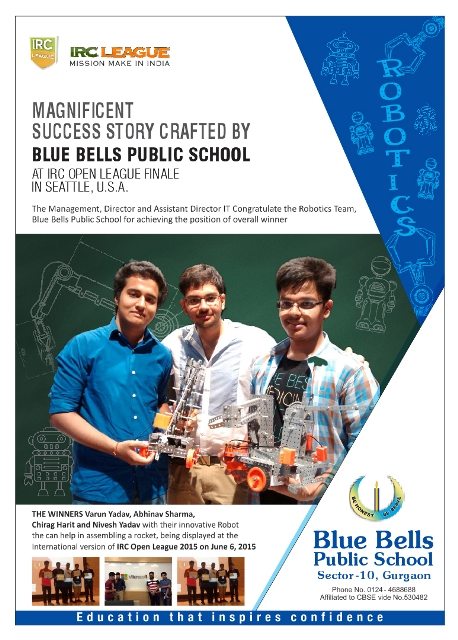 Brahm Dutt Blue Bells is a pioneer in providing computer education right from the Nursery level. As a result, children become tech-savvy right from the initial stage of their education. Computer education and robotronics are a part of our school curriculum. It was set up by Assistant Director – IT, Blue Bells Group of Schools, Ms. Anshuka Aneja.
We at Brahm Dutt Brahm Dutt Blue Bells Public School also provide each child an individual email ID, which is accessible to their parents. A unique login ID and password associated with the email ID is provided to the parents. (If you are the parent of one of our students, you must check the email inbox regularly to access any information provided by the school. If you face any issues with the platform, please contact the school in writing.)
TataEdge Smart Classes
In today's times, technology has come a long way, and so, we too have adapted our teaching systems and introduced Smart Classes in the school. We know that if a topic is learnt through a visual method, it is easier to understand and has better retention. The Smart Class interactive classrooms help students get a better grasp of subject areas using a visual teaching medium. The curriculum is converted into animated visuals. This not only becomes an enjoyable learning experience for students, they can also relate to and remember the facts more easily