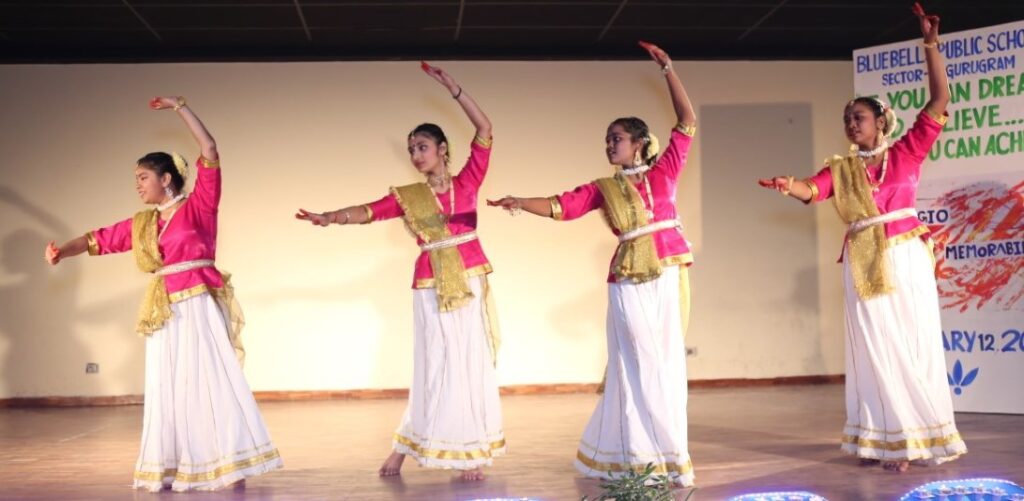 The central task of education is to implant a will and facility for learning; it should produce not learned but learning people. The truly human society is a learning society, where everyone learns together.
—Eric Hoffer
The history of the world is full of people who rose to the occasion and proved themselves by the sheer force of self-confidence, bravery, and tenacity. The young, ignited minds of our society are our greatest assets. We, at Blue Bells, cherish these youngsters and encourage them to explore their true potential by awakening their passions and cultivating their talents. No doubt, they would be more self-assured in this global world of expanding opportunities, but to blossom into peak performers they should strive to restore a sense of focus in their lives.
In this regard, it is pertinent not to lose sight of one's goal and to forge ahead untrammelled by the distractions that constantly vie for their attention. It is always the earnest soul that has swayed the destiny of a nation. Imbued with a passion for knowledge and quest for a lofty purpose, these souls will continue to blaze a trail for us by virtue of their hard work and resolute focus.
The students of the school participate in various interschool and intra-school competitions, where they not only prove their mettle but also present tough competition for the other participants. The plethora of achievements by Blue Bellians is a victory of this team that keeps working ceaselessly to make dreams come true.
Ms. Geetika Batra has been conferred with Global Teacher Award by Educational Development Foundation and Global Talk Education.
Mr. Ravi Prakash Singh, PGT Chemistry was awarded with the Best District Teacher Award by Science Olympiad Foundation .
Dr Anisha Gupta & Ms Geetika Batra were honoured with the Shiksha Gaurav -2020 Award organized by CED Foundation and Microsoft Team.
Edunext awarded Ms. Geetika Batra & Ms. Madhu Talwar with the most prestigious IT Guru Awards. Ms Geetika was awarded with Online Class Room Engagement Award & Ms. Madhu Talwar with the Most Innovative IT Teacher Award.
On records the INCREDIBLE FEATS of the students during the Academic Session 2020-21 are :-
In Saksham National Competition, New Delhi, Jasmita Kumar (VII ) received a cash prize of 5000/ in Painting Competition.
Juhi Arora of Class VIII recently won the prestigious National Science Concours 2019 (NSC) two years in a row. She also bagged First Prize at the Atal Tinkering Event (Games Artefact).
In CBSE , Five Step Training Programme for 119 renowned schools of India, Namo Jain, Aryan Chauhan, Divanshu Chauhan-(XII) secured an Internship and qualified for 'ED Youth Challenge'.
Divanshu Chauhan and Shikhar Srivastava of Class XII have been awarded 100% scholarship worth Rs. 3,60,000 for Internship in Artificial Intelligence by the prestigious The Purpose Academy, University of California – Berkeley.
In an Inter School IT Competition, 'Wartext#6.0', Pranav Srivastava (XII)bagged Second Position in the event 'Capture the Moment'. It was a National Level Competition at .S.R.D.A.V. Public school, Dayananad Vihar , Delhi.
In Hackathon: The Coding Challenge, Khushal Yadav (IV C), Shaurya Thapan (V-A) & Saksham Pandita (VI) moved to the Second Round .
Sushant Yadav-VIII A, Shubhdeep Mitra-VIII C & Shubham Yadav-VIID cleared Second Round of Aavishkar in IRC League.
Khushal Yadav (IVC) cleared the II Round of Tweak League in Junior Robotics Challenge.
In Robo-Tech Championship-2020, organized by Amity 46, Aaryaveer Singh (IV) & Kanishk Gulia (XII) won the Third Prize in events 3D and Audio Mixing respectively.
In E- Colosseum – an Inter School IT Competition, Harshit & Keshav bagged First Position in Production & Sai Naman Chauhan and Moksh Parashar clinched the Third Position in Movie Making.
In CYBERMANIA@BBMS , the school was declared as Overall Winners & bagged the Letter Of Honour for the incredible performance in all the events.
Telematic–Deepika Gupta and Dhriti Gupta (VIII) bagged the First Prize
Juhi Arora (VIII) and Kushagra Luthra (IX) won the First prize
SYNCMASH-Jiya Sharma and Daksh Chugh (VII) clinched First prize
ONLY CODERS-Divanshu Chauhan and Krish Yadav( XII) received the First Prize
TECHNOLANCER-Abhisaar Bhardwaj and Harsh Maheswari,( XI) got Firs prize
GROOVE MAGIC-Harshit Gaur and KESHAV GARG, class XI got Firsprize
Game Changer: In Group B- Pranav and Moksh Parashar (VII) got Second prize& Group A- Saanvi Nigam and Shaurya Thapan ( V) got 3rd prize
Techno-opnion- Suryansh Uttreja, (XII) got Second prize
Cloud Sojourn-Karunesh Yadav and Armaan Verma (XI) got third prize
In EduExcellence Vlogging (Online Competition), Paras Salgotra (VI) successfully cleared Level -II of Vlogging Challenge. He was the only student from the city of Gurugram to be selected in top 10 Indian kids' vloggers.
In Technovity , organized by Amity International School, Sector46, Arjun Singh & Hardik Rai (XI) brought laurels to the school by winning First Prize in the category 'DIMENSIONS' .
In Avishkar Makeathon , Saksham Pandita (VI) got 4000/ Rs cash Prize
In National Perfect Health Mela:
Goohika Joshi(VIII) bagged the Second Prize in Poetry Recitation Competition.
Juhi Arora (VIII) clinched the Third Prize in Singing Competition.
Yash Srivastava (X1) won the Second prize in the event Mono Acting.
In Behes, Online Debate Competition , Misheeta Sangwan (VI) , Khushi Ahuja, Milan Singh and Muskaan Tandon (XII) bagged the Best Speaker Award.
In MUN at GEMS International School, Tarushi (XI-D) bagged the Special Mention Award for the committee UNHRC and Tanishq Malhotra (IX) received the Special Mention Award for his Committee-ECOSOC.
In BBMUN, Tanishq (IX) was conferred with High Recommendation &Tarushi Kalra (XI ) bagged the Special Mention Award.
At Queen's Marry School, New Delhi, Tarushi (XI) received the Best Delegate Award and Sayesha (X) won the High Recommendation in the MUN Conference.
In Language Fest 2020@BBMS, Pari Chouhan (XI) got First position in Contra Opinion. In the event Perspective Photography, Nikunja Kalia (IX) clinched the First Position.
In a National Level Debate Competition organized by Entab Campus Care , Pari Chouhan (XI) clinched the First Position.
In 'Literati' 2020 organized by Amity 46, in Geeta Shalok Gaayan, Khushi Bhardwaj(IX) bagged the First Runners up & Aartraika(IV ) won the Second Runner up in Rhythms.
At Heritage Experiential Learning School -Club Fest 2020,
Aaina Yadav (IX) clinched the First Position & in the event Jazbaa, Diya Chauhan bagged the Second Position. In Category IX-XII, the school team clinched First Position, the proud winners were: Namo Jain,Yash Mittal, Kushpreet , Pragun Phull and Chiranjeev Kashyap
In Suncity School 'Mi Me' Competition, Juhi Arora (VIII) & Ayshi Gupta(VII) bagged the Second Position.
In Swapnil Rang , an Inter School Competition @ Lions Public School , Chirag Yadav (VII) and Anushna Srivastava (VIII) clinched the First Position.
In Science and Sports Fest at GD Goenka Public School, Sec-46 , Pranav Srivastava(XII) &Yash Mittal bagged the Second Position.
In Virtual Tinkering Fest 2020 at Delhi Public School-45, Shubhdeep Mitra and Sushant Yadav won the Second Position. In another event Nazariya, Khushi Yadav bagged the First Position.
In E-Comm Parv @Delhi Public School, Sec-45, Suryansh Utterja & Navya Grover won the Special Award.
In Madhubani Art Competition, Chintrakan, Kavya Verma clinched Second Position.
In Abhyudaya Quiz on Incredible India@ Made Easy School, Vanshika Asthana & Manoj Pradhan (IX) secured the Second Position. The team was declared as Overall First Runners up.
Vanshika (IX) bagged the Second Position in the event "Mathe String" organized by DAV School .