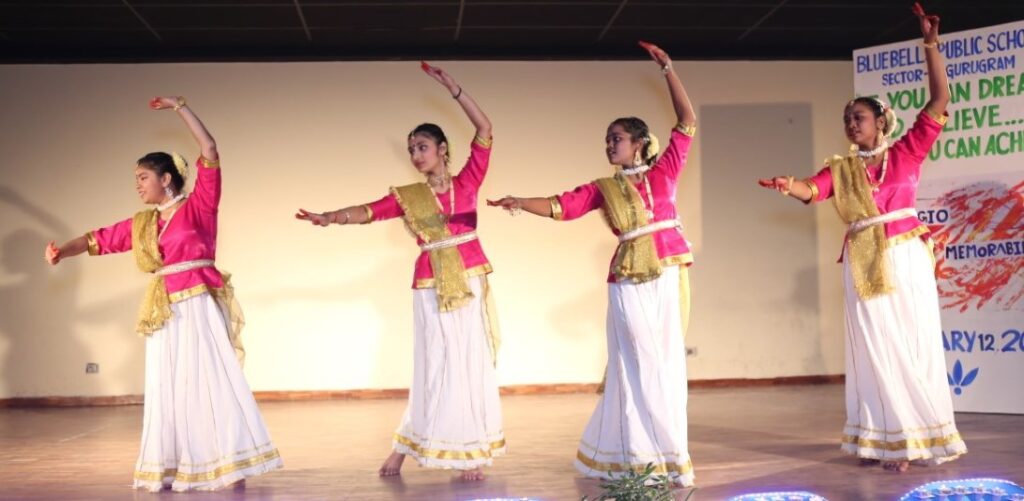 Let us love and cherish our children
Nurturing their innocence, their untainted minds, their delightfully refreshing curiosities
From the very start of life
Not one child missed, left out, or ignored, through discriminations of any form
In sincerest hope, the day will come
When they, and the world, will find true peace, love, and everlasting harmonies.
Our mission at Brahm Dutt Blue Bells, is to bring a smile on the blissful face of every child making him internally happy. Our every endeavour is to make every moment of our child's journey in school full of such blissful happiness by empowering him to become an autonomous learner. When a child learns through self-observation, in the process of learning he travels that extra mile from being a 'Literate' to a 'Self–motivated Learner'. Such is the pedagogy we sincerely adhere to when we initiate the process of Learning for our Blue Bellians so that their school years are full of joy and their schooling is 'Happy Schooling'.
We emphasise on LEARNING and empowering so that the smiles on the innocent faces of the Gen Now are retained as they move further ahead in their life's journey and every moment in their life is a moment of 'Happy learning'. We ardently contribute to equipping our students with 21st Century skills to face the real-world challenges and carve them into global citizens, with tolerance, respect, and appreciation of diverse cultures and religions, in short, 'a lifetime learning experience.'
We are grateful to the Management for the strong foundation built over the past 20 years which results into a strong spirit of innovation and a warm tradition of service before self. We express our deepest gratitude to our visionaries Shri B.D. Gulati Ji-Founder Chairperson, Shri Mahesh Chandra Ji- Chairman and Director- Dr. Saroj Suman Gulati, as their dream, that ushered in transformational changes in education. We pay our deepest reverence and gratitude to our Founder Chairman Sir , Shri. Brahm Dutt Gulati ji, and Sir's name is prefixed with Blue Bells Public School. Now, the school will be known as Brahm Dutt Blue Bellls Public School.
We are indebted to Mr. Ashish Gulati, Vice Chairman, B.B.G.S., a vibrant and dynamic leader who has religiously worked on providing a holistic module of education in his institutions which contributes to the cognitive and emotional empowerment of the students.
We are extremely grateful to Dr. Alka Saxena, Deputy Director (Health & Wellness), Madam Soumya Gulati, Deputy Director (Academic Development & Innovation), and Madam Anshuka Aneja, Deputy Director (IT), BBGS for incessantly working and contributing to enhancing the teaching-learning pedagogies in the school system.
We also remember with gratitude everyone who walked along with us – every student, every teacher, and every parent who contributed his or her best to build this edifice of excellence. On this memorable occasion, we rededicate ourselves with a firm resolve to create a brilliant future.
With the vision of making our scholars 'future ready', quality education and innovative pedagogies such as Inquiry Based Learning, Constructivist Approach, Skill & Competency Based Curriculum and Differential Curriculum are adopted. The school Curriculum is indigenously programmed around experiential learning through Flipped Classrooms, Blended & Project Based Learning and Design Thinking Approach embedded with STEAM integration and UNSDG goals. We feel proud to share that Artificial Intelligence, Data-Science and Coding have been introduced as skill subjects in school. We are proud to share that school has a high-tech Robotics Lab and the first ATAL Tinkering Lab in Gurugram. The school aims to provide education that transcends physical borders and gives the students an understanding of international cultures and perspectives so that they become Glocal citizens who make a positive contribution to their immediate environment.
The innovative pedagogies incorporated into the school curriculum have reaped rich dividends over the years. With esteemed pleasure, we share the incredible milestones achieved by the school in the current academic session.
The school was ranked as 'Gurugram's #10 Co-education Day Schools' in the Education World India School Ranking 2022-23.
The school was conferred 1 in Delhi-NCR, Gurugram, and No. 2 in India by Education World under the STEAM Education Excellence category.
Climate Action Project School of Excellence Award for International Climate Action Project on SDG 13.
' SDG HERO HARYANA' as a part of the Global Sustainability Awards for its exceptional work in the area of SDGs (Sustainable Development Goals).
Motivation is all pervasive eternal high that propels you towards grandeur, prominence and eminence. Carrying forward the legacy of brilliance, the school is a proud recipient of prestigious awards and recognitions.
Platinum Award For Innovative Use Of Technology
Global Triumph Foundation Award for the 'Outstanding Contribution to Education'
National All Rounder Championship Award By Kidex, Brainfeed School Excellence Award 2021-22 and 2022-23 consecutively for transforming education and young minds through a noteworthy spectrum of initiatives.
'Swachh School Award' by the Ministry of Education, Government of India.
Future-Proof Learning Infrastructure
Certificate for reaching the 100% target of Covid Vaccination from the Health Department, Government of Haryana
Paryavaran Rakshak Award – 2022
British Council with the International Dimension of School Award for the period 2020-23.
Commitment, years of sacrifice, and resolution of our Gurus and mentors, who gave us the platform to excel and grow, are duly recognized and felicitated. We deem it our proud privilege to place on record the astounding accomplishments of our visionaries.
Our esteemed Director Dr Saroj Suman Gulati was conferred the Lifetime Achievement Award by EDUTalk for her meritorious and selfless contribution to the cause of education.
Director Ma'am was conferred with the Elets World Education Award as the Top Women Entrepreneurship Award in School Education.
Our Vice-Chairman Mr. Ashish Gulati featured as one of the Top 30 Innovative and Dynamic Education Leaders weathering the Covid Tsunami by Education World India.
To showcase the 42 years of pursuit of excellence in the education sector, India's premier Education magazine Education World writes in detail about what makes Blue Bells Schools, a leading brand in Gurugram.
Dr Alka Saxena, Deputy Director (Health & Wellness ), BBGS, a legendary visionarywas conferred with the prestigious 'Icon of the Year Award 2022' for her relentless and innovative contribution in the field of Education towards the nation and the prestigious 'Pride of India Award 2022' in recognition of her incessant contribution in the field of Health & Education by the Achievers Association for Health and Growth.
Soumya Gulati, Deputy Director (Academic Development and Innovation), Blue Bells Group of Schools was conferred with the Albert Einstein Award for Academicians & Researchers , Indian School Awards for her exemplary contribution to the education community and The School Eduexcellence Award – Platinum.
The recognitions and accolades continue…
Academic Rigor is the forte of the school and hence, our every endeavour is to provide a conducive environment wherein the students of the school are empowered to excel academically. This year again the magic was recreated by the batch of AISSCE (Class XII Board) Examinees achieved yet another benchmark and Tarushi Kalra topped the school with 98.4% (Aggregate ) and 98.5% ( Best Four). Adding glory to this accomplishment, Class X Batch complimented their seniors with magnificent results in the Board Examination, Tanishq Malhotra and Tushar Dudeja topped with 97.2% and out of 132 appearing students 42 students scored more than 90% marks. This outstanding performance in class X and XII is the result of collaborative efforts put in by hard-working students, highly motivated faculty and supportive parents.
The school calendar remained studded with a rich variety of co-curricular activities in-house or extramural. A comprehensive achievement will be presented by our very vibrant young Brahm Dutt Blue Bells crusaders. I request my children, Lakshita, Jeshna and Aaina Hiwal to take over for further proceedings…..
The roots of true achievement lie in the will to become the best that you can become. We are proud to share the accomplishments of our ace performers.
Ishaan Kataria, an ace International Boxer proved his mettle by securing Bronze Medal at the 40th Golden Gloves Boxing Tournament in Serbia and recently a Gold Medal on National Level in Khelo India Khelo Youth Games, held in Madhya Pradesh. He would compete in IBA Youth World Boxing Championship in Spain🇪🇸.
Shreya Dadhich, Sports Captain from the Batch of 2022-23 bagged the First position in District in Block Level Volleyball Tournament, fourth position in Under -19 Haryana SGFI Volleyball Tournament State Level, Best Attacker, and, Second Position in CBSE Volley Ball Cluster and was selected in Youth Volley Ball National from all over Gurugram.
Jiya Mehta clinched the III Position in the 18th National Ice-skating Championship. She represented Haryana in the event held at I-skate and received a cash reward of Rs.3100/- from the Ice-Skating Association of Haryana. She was selected for the 3rd Edition of Khelo India Winter Games at Gulmarg in Jammu & Kashmir.
Harshant secured First Position in 14th District Roller Skating Championship, Second Position in 36th Haryana Roller Skating Championship, Fourth Position in 75th National Roller Skating Championship and was selected to play for Team India.
It is a moment of pride and elation as the School Volleyball Girls' Team has bagged the Runner-up position in CBSE Clusters.
Saksham Pandita of Class VIII C proved his scientific temperament and genius by winning in The INSPIRE Awards – MANAK (Million Minds Augmenting National Aspirations and Knowledge). He is the proud recipient of a cash prize of Rs. 10,000/-. ​
"Future belongs to those who believe in the beauty of their dreams." The school provides meticulous training to students for Olympiads/NTSE/KVPY/ Competitive examinations such that they excel in all fields. A number of national and international Olympiads are conducted for our problem solvers throughout the year. We take pride in sharing that:-
Goohika Joshi from Class X secured an International Rank 1 in SOF (International English Olympiad).
Arnav Singh from Class V and Naman Verma from Class III clinched Rank 1 in SOF(International General Knowledge Olympiad).
"We don't use technology, we live technology" and the same is proved by our stellar achievements in IT. The school team secured :-
Second position in AIM MOD Valorant Competition in Inter-School IT Competition by Modern School, Vasant Vihar, Gurugram.
First Prize in Ignite-2022 organised by G.D. Goenka Public School, Rohini, New Delhi.
The students worked under the guidance of Dr.Hayal Koksal Hoca (ICT SEAGULLS) and their other mentors from school on the Project: Paris Agreement and Solutions for the Climate Problem of the World .

First Position in 'Dream Gleam' and 'Robosphere(Junior)', in Cybertronix 2022.

Second Position in the Lensation Photography and Debate Event respectively in Binary Bots.
"Champions become Champions when they inherit – A Desire, A Dream , A Vision." We at Blue Bells believe Sports is a way of life. In sync with the same, the students participated in various sports competitions and bought laurels for the alma mater.
First Position by the Under 19 in Block Level Volley Ball Competition. 6 girls from the school were a part of the State team.
Overall Trophy in Girls' Category with 6 Gold, 16 Silver, and Bronze Medals in the District Yoga Championship and Silver Medal in Talent Buzz at The Maurya School.
In Intern School Skating Competition, Lavanya received a Silver Medal and Ayush Bhatt bagged a Bronze Medal.
Our little skater Aarvi from Class II bagged a Silver Medal and Ayush Bhatt from Class III won a Bronze Medal in the Sports Fiesta.
'Champions Trophy' in the Block Level Badminton Championship.
Devyansh Baweja represented the Gurugram Team in the Under-19 category in Haryana State Badminton Championship by bagging the Runner-up position in the tournament.
Five of our students performed exceedingly well at SGFI Block Level Karate Tournament 2022 and brought laurels .
In the Under-14 years Boys' District Karate Tournament 2022, two students of the school performed exceedingly well and made it to the State Level Tournaments.
The Under-14 Cricket Team registered two convincing back-to-back victories in SGFI Under 14 District Cricket Tournament.
U-19 Boys team bagged the Winners Trophy. Girls' Soccer team proudly bagged the First Runner-Up Trophyin the same tournament. Mugdha Kalia of Grade X bagged the Best Player in an Inter-school Football Tournament.
Creativity is the whetstone of talent and at Blue Bells, we ensure that our students are provided with a platform to hone their competencies. With pleasure, we place on record the achievements of the school at the Inter school level.
In the Inter-School Competition Nexxt Move, Kashvi Chauhan of Grade UKG bagged the coveted First Prize in Folk Dance Competition and Mishita Panda of Grade III clinched the Second Prize in Classical Dance Competition.
In Shalom's Conclave, the school bagged the Overall Winners Trophy .
Xavenium'22 – SALVAGE,the school team bagged First Position in 'Carton Critters', First Position in 'Envision Enunciators', the Second Position in the event 'Water-the Elixir of Life', Third Position in the event 'Symphony Saga' and Third Prize in the event 'Stage, Story and Enactment'.
Tiya Sharma from Class IV bagged the Third Position in the event 'Azadi aur Hum' held by DPSG School, Sushant Lok.
Navika Chutani of Class II bagged the Second Position in the 'Art competition' event at DPSG School, Palam Vihar.
Kashvi Chauhan of Class LKG bagged the Third Position in the event 'Clay Modelling', in an Inter School Competition at American Montessori school.
In 'Chrysalis 2022', the school team was declared as 'Winners' in Merging Boundaries , The Yarn Spinners, Body Mechanics, Game-o-Thon and Mono Acting.
In Samvid 2022', we bagged the First Runners-Up in the event 'Verse Whirl' and Second Runners-Up in the event 'Vivify Health'.
In Ignite 2022, Unnati and Shruti from Class V bagged the First Position in the event 'Know Me More' .
In 'MI-me 2022' , the school team bagged the Second Prize in the event 'Globetrotters', Second Position in the event VUCA World, Third Prize in the event 'Bliss on a Plate', and Consolation Prize in 'Dip Dab Drizzle' & 'I- Scientist'.
In Swapnil Rang – 2022, Trisha Gupta of Class II B and Krisha Gupta of Class l-C bagged the Second Position in the event 'Festival Diorama'.
In 'La Fete De La Langue, A Festival of Languages Chapter-IV 2022-23, the school clinched First Position in the event Grammathon and Second Position in the event 'Lingua Art'.
In Fest-A-Fiesta-2022, the school bagged the Second Prize in the event 'Gate to Glory'.
In OUT to SPROUT- 22 at Beansprout, the school team performed exceedingly well and brought laurels for the alma mater.
In 'MOSAIC 2022', the school clinched the 'Overall Winners Trophy'.
In 'UN International Day of Education' by City Montessori School, Aliganj Lucknow, Second Position in the event 'Live the Rhythm' and Third Position in the event 'Funky Feet'.
We feel elated as sharing the achievements for the session has given us a sense of motivation to march ahead with confidence toward more success and glory.
To keep pace with the changes of the dynamic world the school has in place The Learning Space – Learning and Development Center. The Center is engaged in continuous research for incorporating the latest teaching pedagogies and technologies. An innovative initiative by the Learning Space is the Academic Carnival- Learning Unbound which aims at inquiry and research-based learning through the interdisciplinary method of teaching. Annual Inter House Theatre Fest -Theatrix is also organized to offer a platform to delve deep into the realm of not only Theatrical skills but also listening, speaking, reading, and writing.
We, at Blue Bells, believe that in order to provide wholesome education to children we must nurture in them the interconnected dimensions of wellness. Health & Wellness Programme of the school has been structured with a strong vision of equipping the students with the knowledge and awareness of their Health & Wellbeing thus ensuring a strong foundation for their childhood. The Health & Wellness Resource Center is a unique initiative, and its key focus is to create modules, formulate policies and develop workshops for the students, teachers, and parents of our School as well as other institutions in the NCR, after thorough and extensive research. ADEPT, A Program for Enhancing Life Skills powered by wellnesswise.in has been conceptualized to provide support in the form of preventive measures and focus on solution-based approaches in training.
The Health and Wellness Programme has been structured holistically with many programmes under it such as- Medical Care Facility and regular health check-ups, Individual counselling & Guidance support, Value Education and Life Skills Education Programme, School Cinema, Peer Educator Programme, Career confluence, Group work for students, Workshops for parents, Teacher Empowerment Programme. The school has formulated various committees under the aegis of Health & Wellness Programme which includes Child Abuse Monitoring Committee, Anti-Bullying Committee and Career Counselling Committee. The counselling & guidance programme provides individual counselling support for students, parents, and teachers. The Programme has been structured holistically to provide support to students with special education needs. The team has also collaborated with the Indian Cancer Society and Help Age India under its social initiatives. Genesis: The Health & Wellness Fiesta, A Mega Life Skills Event and Empezar-A Beginning are annual features organized at the intra and inter-school level with the objective of honing the core Life skills of the students, This year we celebrated Empezar on the theme "Safe & Green Diwali".
We have always believed in building capacities among students in order to equip them to use technology. ICT has been strengthened in all areas to elucidate and explain varied concepts. In the age of cyber threats, we ensure the students' safety through Cyber Congress being run in the school under the guidance of Dr Rakshit Tondon. IT event CyberSpaze and Cybertronix is organized annually to create tech wizards.
Sensitivity towards the environment is another issue that our educational institution is sincerely addressing because it is important that the present generation initiate steps towards conservation in right earnest so that we can ensure a clean and green environment for future generations. Thus, Community Outreach Programmes are organized to sensitize everyone on the core issues so that the change can percolate at a deep level to benefit the society and nation at large.
Travelling encompasses a whole new world in front of us. At Brahm Dutt Blue Bells, we have made Tours and Travel as an inseparable part of the curriculum. To enrich the knowledge base and provide first-hand experience to the children, various outdoor excursions are organized all over India.
The school strongly believes in the continuous growth and development of its faculty members. As a part of its teacher empowerment programme, the school ensures the active participation of its faculty in Sahodhya Annual Conferences and all Capacity building workshops organized by CBSE.
This annual report is much more than a statement of the school's activities and achievements in the academic year. It is a reflection of the school ethos, an expression of the conviction and faith with which we pursue our goals and the very spirit with which we as a single cohesive team work under the patronage of our mentors to maintain and enhance the glorious traditions of this great institution.
We assure our parents and mentors that we would continue to live up to their expectations by 'Delivering, Sustaining, Growing, and Excelling.' To sum up, we would like to share a thought that has always inspired us, " The Best Preparation For Tomorrow Is Doing The Best Today." So, let's all work in total cohesion to provide wings to Blue Bellians so that they soar high in the sky and become ambassadors of impeccable knowledge, peace, and harmony.