INTERNATIONALISM AND WORLD COLLABORATION
Brahm Dutt Brahm Dutt Blue Bells Public School Fosters an International ethos throughout the School and embeds it within the Curriculum. Students are encouraged to work, create and collaborate with those who are from different cultures, understanding that there may be differences in the culture and norms. Students regularly communicate with students from different parts of the World and develop a Global prospective.
The school has in place an International Policy for broadening the horizon of the students and building an international connect by promoting knowledge, sharing and collaborative learning to let them blossom into global citizens. Following are the guidelines of our International Policy
To foster a spirit of international brotherhood and provide a platform to the learners to become global citizens by transcending geo-political boundaries and adding a new dimension to the learning perspective of both the teacher and the taught.
To enlighten all the faculties of the students through the medium of innovation, exploration and experimentation not only about topics that concern our nation but also other countries of the world so that they become globally aware and responsible citizens.
To establish knowledge and cultural exchange with schools all across the globe by embedding a global dimension to our teaching-learning process.
· To Conduct International Projects on a regular basis which help in enhancing the knowledge base and to provide a multi-dimensional outlook to the students.
For example, as a part of the British Council International School Award Programme, seven projects on different subjects were undertaken by the students. The school collaborated with partner schools from different countries like Indonesia , Srilanka, Brazil , Turkey , Australia ,South Africa, Bangladesh , Thailand and Sharjah. It was a wonderful learning experience as the students could mutually exchange knowledge and views on different global issues using Skype sessions, British Council Connecting Classroom's Project Spaces, designing websites, e-mails, blogs etc.
The school witnessed a colourful bonanza of activities covering multiple disciplines . ISA activities carried out throughout the session involved the participation of all the students and staff members.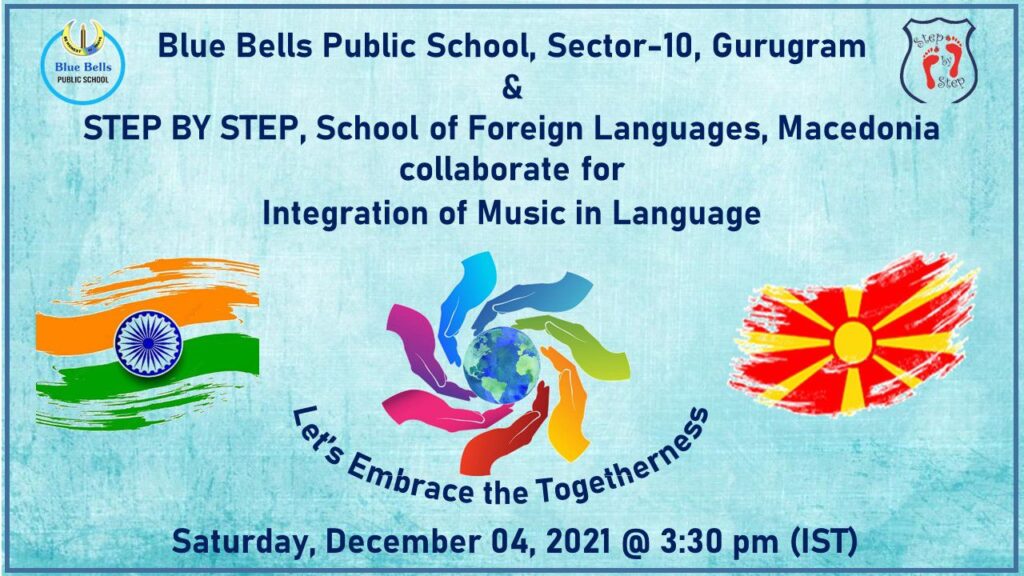 INTERNATIONAL CULTURAL EXCHANGE SESSION BY Brahm Dutt Blue Bells Public School ON THE THEME – ' INTEGRATION OF MUSIC WITH LANGUAGE'
We at Blue Bells believe, "One who knows to integrate language and music lives as many lives as the languages and music he knows." It brings forth a different vision of life which contributes in transcending barriers and strengthening emotional bindings across humanity. To strengthen the spirit of learning with international brotherhood and also provide a platform to the scholars to become global citizens by transcending geo-political boundaries, a session of Internationalism was organized by school on December 4, 2021 on a virtual platform with Step by Step, School of Foreign Languages, Skopje, North Macedonia on the theme, ' Integration of music with languages for holistic growth and empowerment.'
Blue Bellians presented the understanding of the theme in an interesting and absorbing manner with a perfect blend of music and dance presentations. The programme started with a self-composed poem presentation followed by the all religion prayer , a song presentation in French and a dance presentation depicting the cultural and language diversity of our nation. The students of Step by Step School spoke about the importance of music in life and also how it helps one spiritually. They showcased a presentation tracing the history of music in enriching language competencies and skills. The last part of the session was an Open House where the students from both the schools interacted freely. The members from both the schools promised to meet on a regular basis. It was a unique learning rendezvous for all.
UNITED NATIONS SUSTAINABLE DEVELOPMENT GOALS
The Sustainable Development Goals or Global Goals are a collection of 17 interlinked global goals designed to be a "blueprint to achieve a better and more sustainable future for all". The SDGs were set up in 2015 by the United Nations General Assembly and are intended to be achieved by the year 2030.
The Students of our School participated in a competition in association with Vedrana Sarec
(Croatia) through TCOL.
The competition aimed at developing students' understanding of Global citizenship and to turn their ideas into reality . The different goals were targeted by students of different classes.
INTERNATIONAL CONNECT SESSION
Global collaboration offers many benefits to students, including developing communication skills, building healthy relations and a sense of interconnectedness, teaching students to overcome barriers and form bridges to other cultures, and preparing students for increasingly globalized workplaces.
Our students at Brahm Dutt Blue Bells Public School Sector 10, Gurugram had a golden opportunity to have a cultural exchange program with a school from Russia, Secondary School No.5, Krasnoyarsk on February 03, 2023.
The students from Grade XI, led by the Head Boy, Mudit Ahlawat, and Head Girl, Aaina Yadav, gave a presentation on India's culture and bilateral relations between India and Russia. The group also comprised the School Ambassador Ranya and other members of the Student Council. They also participated in a quiz on Russia created by their Russian friends on the platform Quizzes. Students from both schools had an interactive session post-presentation.
We are thankful to Ms. Nadezhda Ivanova from Russia for this wonderful opportunity and look forward to many more projects in collaboration.