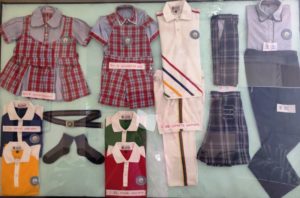 Blue Bells Group of Schools has a rich legacy of 40 years. To carry it forward, we have designed a standard uniform. It is available at our schools and is displayed in the reception area. We have taken care to ensure that the school uniform displays the correct logo. The reception area also displays the official logo for reference.
Parents are requested to note the following essential points:
We expect students to report to the school in flawless school uniform on all days.
To maintain consistency in colour and texture, we have made the school uniform available at the uniform counter.
Parents are requested to purchase the uniform as per the size of their ward. Well-fitted clothes enhance the personality of students.
No alteration to the uniform is permitted.
Boys should sport a neat haircut. Long or uneven hair is not permitted. Girls with long hair must tie their hair in plaits with black rubber bands. Those with short hair must wear a black hairband.