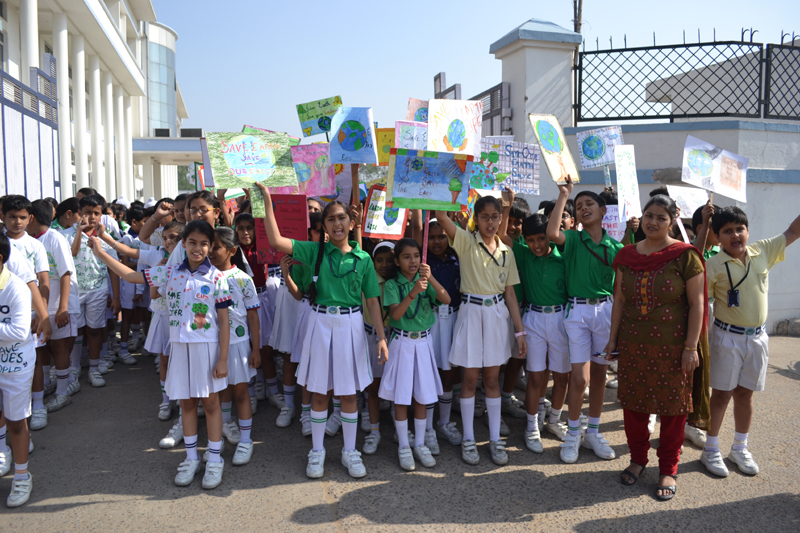 Work Experience is one of our significant focus areas. We ensure that our club activities are designed in such a way that they help students develop career-specific skills. Institutionalisation of work-centred education as an integral part of the school curriculum—from the pre-primary to the +2 stage—is expected to leverage vocational education for meeting the challenges of the globalised economy.
Learning by Doing
Activity and sports clubs add a spark to education. Students decide what clubs they would like to join. Their talent is further honed through creative activities carried out each week.
Our Earth, Our Responsibility
Through rallies, street plays, posters, and slogan-writing competitions, the little hands learn to share the responsibility of a green world. This has brought about a sea change in awareness about our planet. Van Mahotsav is a responsibility that the students shoulders with the utmost seriousness. Projects, models, and innovative ideas to save the planet's resources find ample display on the school premises. The Eco Club organises activities to support this mission.
Spirit of Share and Care
Our students are groomed to serve the underprivileged section of the society. They celebrate festivals, birthdays, and other occasions with these students. Each year, the number of students from underprivileged sections being admitted to the school, rises. Community outreach programmes enable our students to visit old age homes, SOS Children's Village, Khushboo school for special children, and other such places and internalise the noble virtual of caring.
Diversity Instils Unity
Respect for all learners creates a harmonious environment in the school, where students from all strata of society form a homogenous group. Cultures, traditions, and different religions are embraced with equanimity.
Publications
SCHOOL MAGAZINE:
Creatica is the annual school magazine. It is compiled, designed, and edited by the Editorial Board of the students. The front cover and the back page always display the artworks of our students.
NEWSLETTER:
The quarterly newsletter is totally managed by the students. The photographs featured in it are also are also clicked and selected by the students.