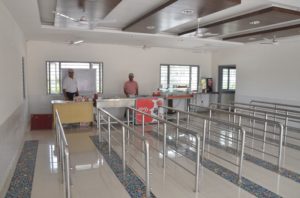 The Canteen Committee keeps checks on the type, quality, and taste of food and beverages served in the canteen. It also oversees the upkeep of the canteen area.
fully renovated canteen has been opened for students and other members of the school where a variety of food items are served daily and are regularly checked by the Canteen Committee.
The school has established a Quality Circle comprising teams of teachers and students, who coordinate for the maintenance of health and hygiene in the school.
Students are given lessons in etiquette and table manners, taught to wash their hands or use sanitisers before and after meals, and to use napkins and mats when having their tiffin during lunch break.
A variety of food items is served to the students, keeping in mind their nutritional and dietary requirements