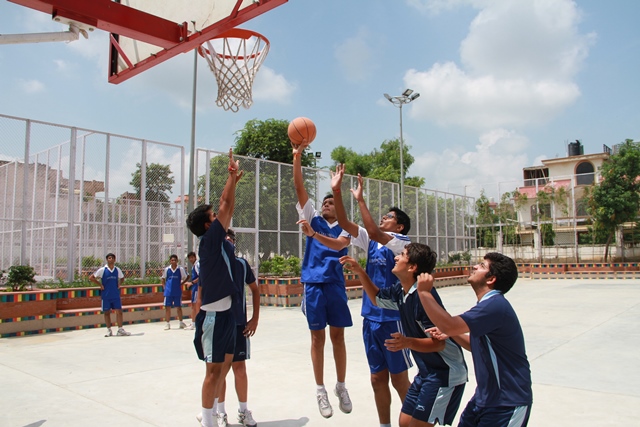 The Outdoor Sports Arena of the school has professional-grade sports areas such as  Basket Ball court, Badminton court, and Skating rink. These facilities provide students with the most authentic experience of playing the sport. Professional and highly qualified coaches and state-of-the-art equipment help students hone their skills to participate in state- and national-level competitions.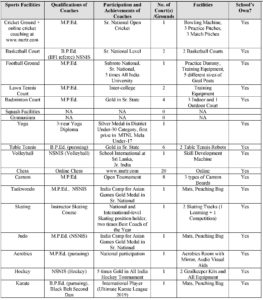 Achievements in Session 2019–20
Our Volleyball (Girls) Under-17 team participated in the Haryana School District Volleyball Tournament on 01 August 2019, and the school team secured the first position in the finals.
Our students won the Gold Medal in Interschool Volleyball (Under-16 Girls) sports tournament by defeating Bal Bharti Public School Rohini. Our student, Shreya, received the Best Player award. Ms Sushma Sehrawat received the Best Coach Award.
At the Under-17 Girls District-level Volleyball Tournament at Colonel School, the girls team won the first prize and represented the school at the state level.
At the Under-14 Girls District-level Volleyball Tournament, Akansha was selected for the state-level tournament at Hisar.
At the 4th Haryana State Ice Speed Skating Championship 2019 held at Ambience Ice Skating Rink, Jiya Mehta bagged the Gold Medal in the 13 to 15 years age group 1000 metres race.
At the Haryana School Block Athletics Tournament (Boys), Deepanshu of Class XI-D bagged the second position in Long Jump and Parth of Class V-A bagged the third position in Shot Put. Our Under-19 team bagged the second position in 4x100m Relay Race Boys. Jinni of Class XI-B bagged the first position in Shot Put. Our Relay Race Team for 4x400m, comprising Khyati (XI-C), Sadaf (VIII-A), Muskan (XI-A), and Aashna (IX-C), achieved the second position.
The school's Cricket and Football teams have performed consistently throughout the year and have won prestigious championships.